For today I made a Snowman picture on the computer, for you to print out and color in. Do you make pictures on your computer?
We can't make snowmen in Australia at Christmas time, only in our winter if we go up to the mountains. We can use snowmen tree decorations or color in pictures and stick them on the wall or fridge. You can make them from playdough or salt dough.
If you built a snowman what would you use for its eyes, nose, mouth, arms and buttons?
Tallest Snowman Ever
The tallest snowman, called Olympia, was built in Bethel, Maine, USA in 2008.. It's really a Snowwoman. It was 37.21 metres high and wore a scarf over 30 metres long..  Its arms were made of trees and and its eyelashes were skis. It took over a month to build.
[youtube]http://youtu.be/qYjJaJFPDk4[/youtube]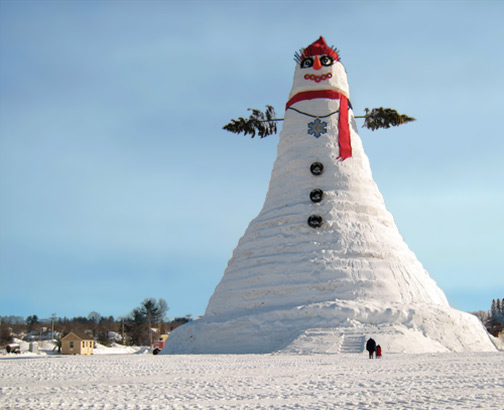 This close up shows Olympia's head and the skis used for eyelashes.
The Snowman Movie
Here's a video of the song "I'm Walking In The Air from the move The Snowman.
[youtube]http://youtu.be/xb-pX7sIjFY[/youtube]
You can watch the full The Snowman movie on YouTube. It's 25 minutes long so ask your parents if it's OK for you to watch it.
Photos by Chris Dag – License Creative Commons Attribution 2.0 Generic