Today we have some fun Christmas Poems for you.
Christmas Poems 1 – Reindeer Food
Words
Reindeer Dust
Sprinkle on the lawn at night
The Moon will make it
sparkle bright.
As Santa's reindeer
fly and roam,
This will guide them
to your home.
Poem 2 – Christmas in Australia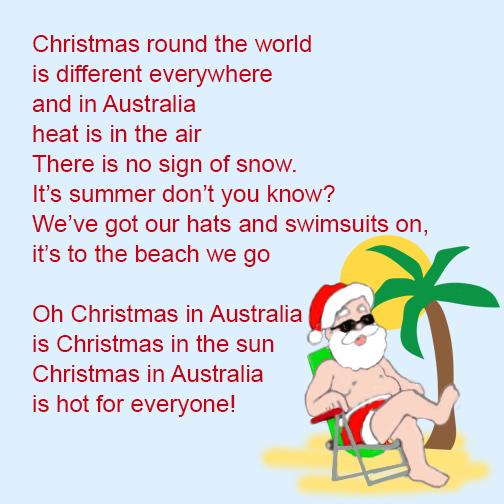 Words
Christmas round the world
is different everywhere
and in Australia
heat is in the air
There is no sign of snow.
It's summer don't you know?
We've got our hats and swimsuits on,
it's to the beach we go
Oh Christmas in Australia
is Christmas in the sun
Christmas in Australia
is hot for everyone!
Poem 3 – The Grinch Meaning of Christmas
The third of our Christmas poems is from the Grinch. The Grinch realizes that Christmas isn't about presents, but about being together.
Words
The Grinch
with his Grinch-feet
ice cold in the snow,
stood puzzling and puzzling.
How could it be so?
It came without ribbons,
It came without tags.
It came without packages,
boxes or bags.
And he puzzled and puzzled
and puzzled.
'till his puzzle was over.
Then the Grinch
thought of something he
hadn't before.
"What if Christmas, he
thought, doesn't come
from a store.
What if Christmas perhaps
means a little bit more."
Here's a video from the Grinch movie.
[youtube]http://youtu.be/6E3hWgUHqHs[/youtube]
Do you know any more Christmas Poems?